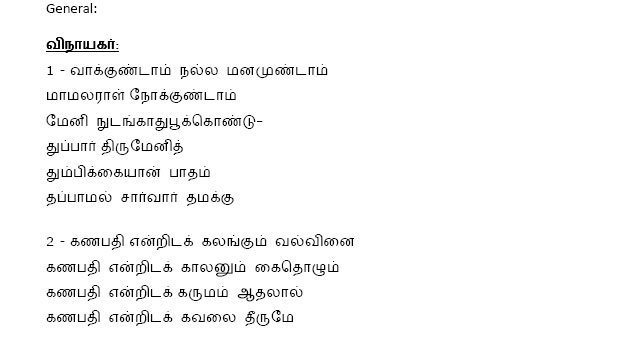 Sri Shanmuga Gayathri
Thatpurushaya Vidhmahe
Maha Senaya Dhimahi
Thannah Shanmukha Prachodhayath.
"Subham Karoti Kalyanam
Arogyam Dhana Sampadah
Shatru Buddhi Vinashaya
Dipa Jyotir Namostute
Meaning: The accurate meaning of the mantra is: "I fold my hands before the light that brings prosperity, auspiciousness, good health, abundance of wealth and destruction of the enemy's intellect". Here, Darkness symbolizes enemy's intellect and with the arrival of light, darkness disappears. Likewise, light (God's Grace) destroys darkness (enemy's intellect).
"Deepajyothi Parabrahma
Deepajyothi Janardhana
Deepo Me Hara Tu Paapam
Deepaa Jyothir Namostute"
Meaning: The literal meaning of the mantra is: "I fold my hands before the lord, the maintainer of this creation, in the form of this light. I adore this light, which destroys all the pains resulting from my omissions and commissions".
MRITYUNJAYA MANTRA
Aum Trayambakam Yajaamahey
Sugandhim Pusti Vardhanam
Urvaarukamiva Bandhanaath
Mrutyor Muksheeya Maamritaat
Mrutyunjayaaya Rudraaya
Neelakantaaya Shambhave
Amriteshaaya Sarvaaya
Mahadevaaya Te Namaha
Meaning: I pray to Lord Mahadeva who has conquered death, who is the destroyer of the universe, who has a blue neck and who gives happiness to all.
Vande Deva Umaa Pathim Suragurum
Vande Jagat Kaaranam
Vande Pannaga Bhooshanam Mruga Dharam
Vande Pashoonam Pathim
Vande Soorya Shashanka Vahni Nayanam
Vande Mukunda Priyam
Vande Bhakta Jana Ashrayam Cha Varadam
Vande Shiva Shankaram

Meaning:I bow down to the Lord of Uma (Parvathi), the divine Guru, the cause of the universe. I bow down to the Lord who is adorned with snake and wears tiger skin, the Lord of all creatures. I bow down to the Lord whose three eyes are the sun, moon and fire and to whom Lord Vishu is near. I bow down to the Lord who is the refuge of all devotees and the giver of boons, Shiva Shanakara.
Gauri Vallabha Kaamaarey
Kaala Koota Vishaasana
Maam Uddhhare Padambhoje
Tripura Agnyata Kaantaka
Meaning: Please save me, oh Lord Kaamaarey (another name for Lord Shiva). You are mother Gauri's consort; You are the One who drank the kaala koota poison (which resulted from the churning of the ocean); You are the destroyer of the three cities. Oh Lord I have taken refuge at Your Feet.
SHIVA PANCHAAKSHARA STOTRA
Nagendra Haaraaya Thrilochanaaya
Bhasmaanga Raagaaya Maheshvaraaya
Nityaaya Suddhaaya Digambaraaya
Tasmai Nakaaraaya Namah Shivaaya.
Meaning: I offer my humble salutations to Lord Mahesvara - who has a garland of serpents around the neck; who has three eyes; whose body is covered with ash (vibhuti); who is eternal; who is pure; who has the entire sky as His dress and who is embodies as the first letter Na.
Mandaakini Salila Chandana Chaarthitaaya
Nandeesvara Pramatha Naatha Mahesvaraaya
Mandaara Pushpa Vahu Pushpa Supoojitaaya
Tasmai Makaaraaya Namah Shivaaya
Meaning: I bow to Lord Mahesvara, who is embodied as Makaara (letter Ma), whose body is anointed with holy waters from the river Ganges and sandal paste, who is the sovereign king of the Pramatha Ganas and who is adorned with innumerable divine flowers such as Mandaara.
Shivaaya Gauri Vadana Aravinda
Sooryaaya Dakshaadhvara Naashakaaya
Sree Neelakantaaya Vrisha Dhvajaaya
Tasmai Shikaaraaya Namah Shivaaya
Meaning: I offer my salutations to Lord Shiva, who is the resplendent sun for mother Gauri's lotus face (sun causes the lotus flower to open up and bloom; Lord Shiva makes mother Gauri's face bloom), who is the destroyer of Daksha's sacrificial ritual, who is the blue necked Lord (due to the Haalahala poison which He agreed to consume), whose banner bears the emblem of a bull and who is embodied as the letter Shi.
Vasishta Kumbhodbhava Gautamaaya
Muneendra Devaarchita Sekharaaya
Chandraarka Vaishvaanara Lochanaaya
Tasmai Vakaaraaya Namah Shivaaya
Meaning: I prostrate before the God of Gods, who is worshipped and prayed to by great sages such as Vashishta, Agastya and Gautama, whose eyes are sun, moon and the fire and who is embodied as Vakaara (letter Va).
Yajna Swaroopaaya Jataadharaaya
Pinaaka Hasthaaya Sanaatanaaya
Divyaaya Devaaya Digambaraaya
Tasmai Yakaraaya Namah Shivaaya.
Meaning: Prostrartions to the sacred Lord who is the Yaksa incarnate, whose hairs are long and matted, who holds Pinaaka (trident) in His hand, who has the entire sky as His attire and who is embodied as the letter Ya.
Panchaaksharam Idam Punyam
Yah Pateh Shiva Sannidhau
Shivaloka Mavaapnothee
Shivena Saha Modate
Meaning: Whoever repeats this prayer composed with the five holy letters before Lord Shiva, attains that supreme abode of His and enjoys the eternal Bliss.
Vande Shambhum Umapathim Sura gurum
Vande Jagat karanam
Vande Pannaga Bhushanam Mriga dharam
Vande Pashunampathim
Vande Surya Sashanka vahni nayanam
Vande Mukunda priyam
Vande Bhakta janaashryam cha varadam
Vande Shivam Shankaram.
"Kaayena Vaachaa Manasendriyairvaa
Buddhyaatmanaa Vaa Prakriteh Svabhaavaatah
Karomi Yadhyadh Sakalam Parasmai
Naaraayanaayeti Samarpayaami"
Meaning: The literal meaning of the mantra is: "I offer everything to Lord Vishnu (Narayana); whatever I do with my body, words, mind, limbs, intellect or my inner self whether intentionally or unintentionally. I bow to the great lord, Vishnu".
"Shaantaakaaram Bhujanga Shayanam Padmanaabham Suresham
Vishvaadhaaram Gagana Sadrisham Meghavarnam Shubhaangam
Lakshmiikaantam Kamalanayanam Yogibhidhyaarnagamyam
Vande Vishhnum Bhavabhayaharam Sarvalokaikanaatham"
Meaning: Lord Vishnu is the personification of peace, who rests on the Shesha Naag. The Narayana, from whose navel the Lotus springs and whose complexion is swarthy like the clouds. The God, who is the beloved of Goddess Lakshmi, whose body shines with divine splendor and whose eyes are like Lotus. I bow to the lord, Vishnu Narayana, who is meditated upon by the yogis and who is the remover of the fear of the world-cycle.
Vasudeva Sutam Devam, Kansa Chaanuuramardanam
Devakii Paramaanandam Krishhnam Vande Jagad Gurum"
Meaning: Krishna is the Supreme Lord, Son of Devaki (Sister of Kansa) and Vasudeva. He is the slayer of Kansa and Chanur. I bow to such great lord and may god bless me with his grace always.
Aakaashaath Patitam Toyam, Yathaa Gachchhati Saagaramh
Sarvadeva Namaskaaraanh, Keshavam Pratigachchhati"
Meaning: Lord Krishna is great. Just as every rain drop that falls from the sky flows into the Ocean, in the same way every prayer offered to any deity flows to Lord Krishna. I bow to such great Lord Krishna.
Sloka on Rama
"Yanmaya Vashvarti Vishwamkhilambrahamadidevasura,
Yat Sat Vadmrishave Bhati Sakalam Rajoo Yadhaahaibharama,
Yatpadah Palvmaive Bhati Hi Bhavambhodhaisitatti Shravtam,
Vandeaham Tamsheshkaranparam Ramakhayamesham Harim"
Meaning: Lord Hari is also called as Rama and he is beyond all cause. This whole world is a part of his Maya. Lord Ram is the only one, with whose essence everything shines as real (though in reality it is false) where snake is misapprehended as a rope and whose feet are a boat to those who aspire to cross the ocean of Samsara, the relative existence. I surrender myself to such great Lord.
"Moolam Dharmtarovivekjaldhae Poornedumannandam,
Vaiaragayambuj Bhaskaram Tawaghharam Dhavanta Paham Tapham,
Mohambhodharpunjhpatanvidhoo Khe Sambhavam Shankaram,
Vande Braham Kul Kalankshamanam Shree Rambhoopam Priyam"
Meaning: Lord Rama, the beloved King is the root of the tree of all Dharma. He is the full moon, giving delight to the ocean of Viveka or discrimination and the sun for the lotus of Vairagya. He is the destroyer of sin, the dispeller of the darkness of ignorance and the destroyer of pain. In the act of destroying the masses of clouds, of delusion he acts like wind. I bow to the Lord, who is propitious and who brought death to the disgrace to the Brahmin family of Ravana.
"Prasantam Ya Na Gatabhishaket Satatha Na Mamloo Banvasdukhta,
Mukhambujshree Raghunandan Sai Mai Sada Aastu Sa Mujulmangalprada"
Meaning: Lord Rama has a lotus like beautiful face. His beauty neither gets enhanced at the coronation nor fades at the hardships of an exile in the forest. May Lord bless me with all auspicious.
"Neelambhuj Shyamalkomlang Sita Samaropitvambhagam,
Pano Mahasaikacharoochapam Namame Ramam Raghuvanshnatham"
Meaning: Lord Rama is the chief amongst the Raghus. His handsome body is of dark blue color like the blue lotus. He has Sita seated on his left. He is the one, who wields a beautiful bow and arrows in his hands. I bow to such great Lord.
Sloka on Sarawati
Ya Devi Stuyate Nityam Vibhuhairvedaparagaih
Same Vasatu Jihvagre Brahmarupa Saraswati"
Meaning: Saraswati, the goddess of knowledge, is praised by the intelligent who have mastered the Shastra (scriptures). She is the wife of the Creator. May she live on my tongue.
"Shrii Saraswatii Namahstubhyam Varade Kaama Ruupini
Twaam Aham Praarthane Devii Vidyaadaanam Cha Dehi Me"
Meaning: I bow to Goddess Saraswati, who fulfills the wishes of the devotees. I pray her to enlighten me with knowledge.
"Sarasvathi Namastubhyam, Varade Kaamaroopini
Vidyaarambham Karishyaami, Siddhir Bhavatu Mey Sada"
Meaning: Saraswati is the provider of boons and the one, who grants all our desires. As I begin my studies, I bow to the Goddess to help me in making it fruitful and make me successful in all my efforts.
Shri Hanuman Chalisa
ll Doha ll
Shri Guru Charana Saroj Raja, Nija Mana Mukura Sudhaar l
Baranou Raghubara Bimala Jasu, Jo Daayaku Phala Chaar ll
Buddhi Heena Tanujaanike ,Sumeero Pawana Kumaar l
Bala Buddhi Vidhya Dehu Mohi, Harahu Kalesha Vikaar ll
ll Chaupai ll
Jai Hanuman Gyana Gunasagara, Jai Kapeesa Tihu Loka Ujaagara
Rama Doota Atulita Baladhaamaa, Anjanee Putra Pawanasuta Naama

Mahabir Bikram Bajarangee, Kumatee Nivaara Sumatee Ke Sangee
Kanchana Barana Biraaja Subesha ,Kanana Kundala Kunchita Kesha

Haatha Vajra Aur Dhwajaa Birajay, Kaandhe Moonj Janeun Saaje
Shankara Suvana Kesaree Nandana,Teja Pratapa Maha Jaga Vandana

Vidya Vaana Gunee Aati Chatur, Ramakaja Kareebe Ko Aatur
Prabhu Charitra Suneebe Ko Rasiya,Rama Lakhana Seeta Mana Basiya

Suukshmaroopadhari Siyahi Dikhava,Vikataroopadhari Lanka Jarawaa
Bhima Roopa Dharee Asura Sanhaare, Ramachandra Ke Kaaja Sanwaare

Laaye Sanjeevan Lakhana Jiyaye, Shri Raghubeera Harasheeura Laaye
Raghupatee Keenhi Bahuta Badaayii,Tum Mam Priya Bharata Sama Bhayee

Sahas Badan Tumharo Jas Gave, Asa Kahe Shreepathee Kantha Lagaave
Sanaka Dik Brahma Dee Muneesa, Narada Sharada Sahita Aheesa

Yama Kubera Digapaala Jahan The, Kavi Kovida Kahee Sakay Kahan The
Tum Upakaara Sugreevaheen Keenha, Rama Milaaya Rajapada Deenha

Tumharo Mantra Vibheeshana Maanaa,Lankeshwara Bhaye Saba Jaga Jaanaa
Juga Sahastra Yojana Par Bhanu ,Leelyo Taahi Madhura Phala Jaanu

Prabhu Mudrika Meli Mukha Mayee, Jaladhi Laanghee Gaye Acharaj Nahee
Durgama Kaaja Jagatke Jethe, Sugama Anugraha Tumhare Tete

Rama Duaare Tuma Rakhawaale, Hota Na Aagyan Bina Paysaare
Sab Sukh Lahai Tumhari Sarana, Tum Rakshak Kahoo Ko Darna

Aapan Tej Samhaarao Aape, Teeno Lok Haankate Kaapein
Bhoota Pishaacha Nikata Nahee Aawe, Mahabeera Jaba Naama Sunaavay

Naashai Roga Hare Sab Peera, Japata Nirantara Hanumatha Beera
Sankat Se Hanuman Chodave, Man Krama Bachana Dhyan Jo Laave

Sab Para Raama Tapasvi Raja, Tinake Kaaja Sakal Tum Saaja
Aur Manoratha Jo Koyee Laave, Soyee Amitha Jeevan Phala Paave

Charahu Yuga Parataapa Tumhara, Hai Parasiddha Jagata Ujiyaaraa
Sadhoo Sant Ke Tuma Rakhwaale, Asura Nikandana Raama Dulare

Ashta Siddhi Nava Nidhi Ke Daataa, Asabara Deena Jaankee Maataa
Rama Rasayan Tumhare Paasaa, Sadha Raho Raghupathee Ke Daasaa

Tumhare Bhajan Ram Ko Paave, Janma Janma Ke Dukha Bisaraave
Antha Kaal Raghupatee Pura Jaayee,Jahaa Janma Hari Bhakta Kahayee

Aur Devatha Chit Na Dharayee, Hanumatha Seyi Sarva Sukha Karayee
Sankata Kate Mite Sab Peera , Jo Sumeere Hanumatha Bala Beera

Jai Jai Jai Hanuman Gosai, Kripa Karahu Gurudeva Kee Naayee
Yah Shata Baar Paatha Kara Joyee, Chutahee Bandhee Maha Sukha Hoyi

Jo Yaha Pade Hanuman Chaleesa, Hoye Siddhi Saakhee Goureesa
Tulasidasa Sada Hari Chera, Keejay Naatha Hridaya Maha Dera
ll Doha ll

Pawana Tanaya Sankat Harana, Mangala Muuratee Rupa l
Rama Lakhana Seeta Sahita, Hridaya Basahu Sura Bhoop ll